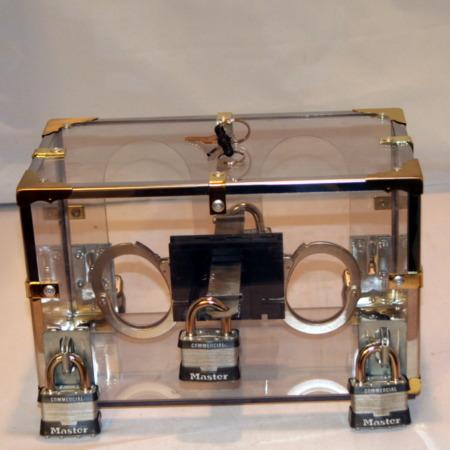 What a Terrifying Beauty!

Many magicians would love to be Houdini … and so escape effects often appeal to us. Unfortunately, most escapes are either too much work or are unimpressive. Not so with this incredible beauty from Cannon's Great Escapes. The props look amazing and are very solid. The escape is 100% impossible, and yet you can pull it off almost effortlessly.

If you wanted to feature one escape in your act I believe this is the perfect candidate. You bring out the cuffs and lock a spectator up with them. No matter how hard they try they cannot escape. You now ask them to cuff you with the same cuffs. Next, they put a blue box around the cuffs to ensure that even if you had the key it is impossible to reach the key hole. Next your cuffed hands are placed inside the clear Lucite box and the blue box and cuffs are locked into place with a steel bar and also each corner of the box is locked down to the base. The padlocks used are genuine heavy duty Master locks. The whole thing looks so real and so impossible to escape from.

Now they cover up the box and a few clinks and clangs and struggles are heard coming from the box and shortly you pull your arms free. When the cover is removed the padlocks and blue box and steel bar are all still in place. It is simply amazing.

Highly Recommended for would be Houdinis everywhere!
Click here for more information.