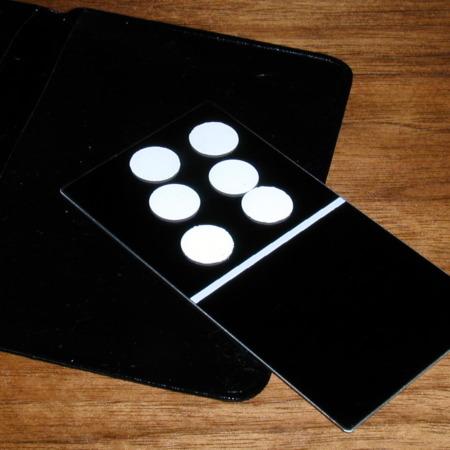 This had me fooled!

This is a clever little miracle from $link(http://www.qualitymagicbooks.com/?nd=list&keywords=wayne.dobson target=_blank,Wayne Dobson) and I love it!

You show a domino with 6 dots that can freely be moved around and ask a spectator to position them in any combination they fancy. Then as a gag you talk about how magicians use mirrors all the time in their acts. You bring out a mirror and explain how you had made a prediction of the domino they would create – just look in the mirror and there is the reflection of their chosen domino!

Of course they are not impressed, so then the magician turns over the mirror and their is there choice printed on the back!

This is a very sweet fool proof prediction, with instant reset and very easy to do. It will fool you too!

This is my favorite of the Wayne Dobson miracles I recently purchased. Keep an eye on this guy – he has some wonderful magic!
Click here for more information.