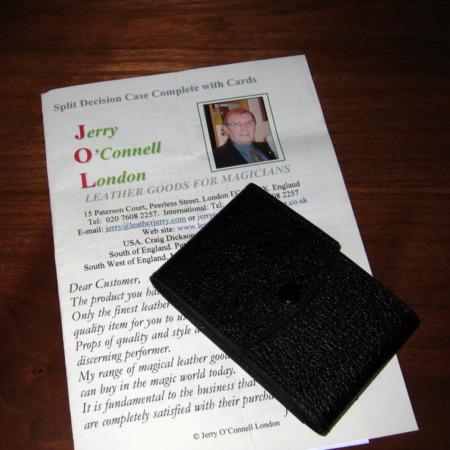 Great Magic and a Great Case!

This is a wonderful triple climax effect by Joe Riding and Jerry liked it so much he built a case (made of leather of course) just for the effect. The use of Jerry's case really enhances the effect since it allows each of the climaxes to be hidden until just the right time.

In essence, you show two half decks of cards and have one half card chosen from each pile. Not only do the half cards end up matching the prediction both front and back, they are chosen from on one side cards with rainbow backs, and on the other side cards with blank faces.

It is a great routine with moments for laughter and entertainment builit in until you reach the final prediction. Jerry's leather case not only makes it easy to carry, but also enhances the impact of the effect.

Highly Recommended!
Click here for more information.