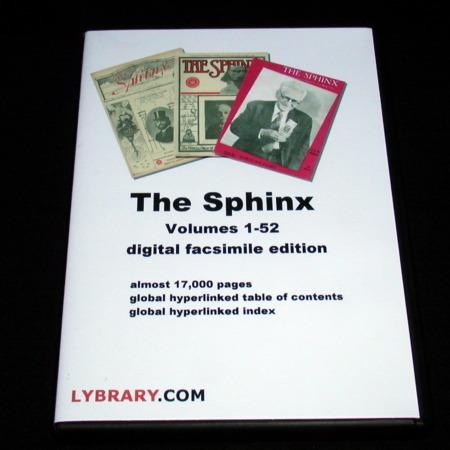 Never mind the Quality, feel the width!

Ok, so I'm the first to admit that I am totally not a lover of eBooks. I'm sure they will continue to grow in popularity each year since they have four primary advantages over our beloved hardbound originals: they are cheap, they are easy to search, they take up little room, and they last forever. However for me, I want the real thing. Having all my books in some sort of electronic form would be cool too, but for the most part I just want the books.

In the case of The Sphinx, the eBook advantages are huge. These two DVD's contain almost 17,000 pages or 50 volumes of some of the most important writings in magic history.To buy a full set of The Sphinx, if you can find one, will cost upwards of $5,000 – and then you run the risk of pages falling apart in your hands. Once you do manage to track down a copy that doesn't fall apart on you, then you have the task of housing them somewhere – a 3 foot shelf is needed!

So this is one eBook that is really worth owning. $link(http://www.lybrary.com target=_blank,Chris Wasshuber and his Lybrary.com) takes a lot of heat from the book buying magic community, but he is providing a wonderful service to magicians. Particularly for the large or difficult to find volumes. In many cases he is providing access to books that to all intents and purposes cannot be viewed in any other way. When put in that context you can't argue with the need for eBooks.

Chris is very helpful and dedicated to his task of preserving magic one book at a time. His books primarily ship in an HTML format and I prefer the Adobe PDF format, and he spent quite a lot of time helping me convert my copy into PDF. This was a long and time consuming process, and I thank Chris for helping me do it. However, I do wish he produced these things in PDF up front. I believe that the PDF format and Acrobat is a much better technology and portable platform for eBooks than HTML. Chris has is reasons for using HTML and I'm sure they are fine. But for me PDF is much better, and will continue to get better over time since ADOBE will continue to invest huge resources in it.

This then is my one criticism of the eBook phenomena – it is still early days and the media, software and hardware to view them is still changing. It is not a high-tech, high-gloss world, and particularly in the case of these facsimile versions, where the text itself is not converted, being able to sit down and read them on your computer is not as easy as it could be. You'll find yourself resizing pages and trying to find the optimum reading set-up.

The Sphinx eBook does come with an impressive index and table of contents which is searchable. If you want to find articles about $link(http://www.qualitymagicbooks.com/?key=1632&html=full target=_blank,John Northern Hilliard) type it in and 12 articles come back. Of course if you type in John Hilliard nothing comes back which shows up one of the issues with the technology.

I would like to give this 5 stars for time and effort that Chris has put into this. Unfortunately, I believe that as an eBook it could be better and I urge Chris to reconsider using PDF as a medium for his books, and let ADOBE do the development whilst he focuses on finding and converting the books.

Regardless of the technology limitations, this is still a very impressive effort and as a research aid it is invaluable. Just be prepared for the road to be a bit rockier than you might expect. As they say on the old maps: Here there be Dragons …
Click here for more information.