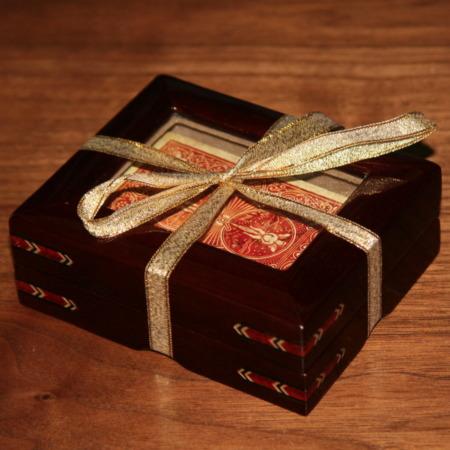 Amazing Quality, Great Magic!

More real furniture quality magic from those fast and efficient guys over at the Magic Wagon. The finish out on these props is just breathtaking – the inlay work is marvellous and everything is trimmed with this fine velvety material – it just looks very classy.

The new line has a very distinctive look and I think you can expect more great items from these guys in the near future.

Not only is this card box amazing to look at but the effect is rather unique. In a nutshell you show the box with the ribbon around it securely trapping a single card (or cards) that can be seen at all times through the glass. A spectator is given a normal deck of cards to shuffle and a card freely selected. When the card is removed from the card box it is seen to match perfectly. The card can be different every time and it is all examinable if required.

The instructions are clear and everything I have received from this company has been delivered and packaged very well.

Highly Recommended!
Click here for more information.