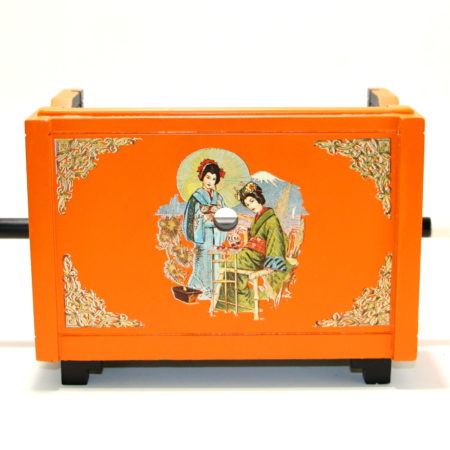 This is how "they" get you! I've been purchasing a few of Carl Williams pieces recently and just when you think you are above all of the addictions of classic magic effects, you realize you're right back where you started and can't stop yourself. This is another stunning beauty meticulously re-created by Carl to duplicate the original Okito masterpiece. And what a clever and perplexing illusion it is. Spend a little time working with this and you will have a true baffler for both magicians and lay people. And amazingly the whole unit can be minutely examined. I guess I'll be tracking down more of Carl's work because he is so good 🙂
Originally called "Berg's Wand-O-Ring," this effect was devised by Joe Berg and built by Okito, when it won the award at a contest by the Society of American Magicians Assembly No. 3 in 1947.
Effect: The apparatus is a small cabinet which has no lid, but has a removable front panel and two slots in the side so a wand can be lowered in. There is also a hole in the center of the front panel and another in the back. Three differently colored washer-like rings are introduced, and one of them is freely chosen. The box can be inspected by the audience if necessary; then the wand is lowered into it and the front panel slid into place. Next the chosen ring is lowered into the cabinet and held there while a length of ribbon is threaded through the hole in the rear, through the ring, and out through the hole in the front. For a moment the ring is lifted from the cabinet to show it has been threaded on the ribbon, and then it is replaced inside.
Suddenly the ribbon is pulled taut, the wand is lifted out of the cabinet and the chosen ring is seen to be threaded on it instead of on the ribbon. The ribbon is removed and everything given for critical examination.
Click here for more information.