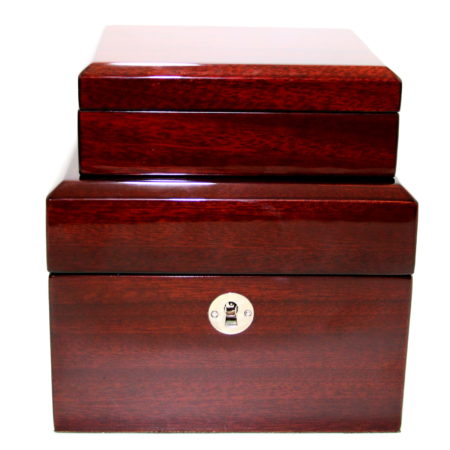 These beautiful boxes are based upon an idea by the genius Robert Harbin known as The Harbin Boxes which were primarily used as a stage prop. Steve Cook worked with Tony Curtis and Magic Wagon to create the amazing outfit you see before you. There were only 50 made and they sold out very quickly.
The Reverse 0 Boxes are a utility item that can be used for multiple effects: they can be used to switch any small item, while having an unseen duplicate, which will always be ready to be switched-in when needed. The instructions come with 8 pages of ideas and routines along with extra items for some of them. One of the issues with these boxes is choosing a routine that does the best justice to the the high-end nature of the boxes and the effects possible thanks to Robert Harbin's wonderful idea.
The use of coins, watches, jewelry, color changing knives open up some interesting opportunities and if you were to make use of gimmicked coins or knives (say) then due to the versatile nature of the boxes some very intriguing possibilities open up. You don't need to think of any of your own routines of course and there are plenty of ideas included, but I think you will start to think of others quite quickly when you see how beautiful they are and how clever Harbin's basic idea is.
I really like John Talbot's video above, it is a very clean handling with an always topical Houdini theme!
Click here for more information.