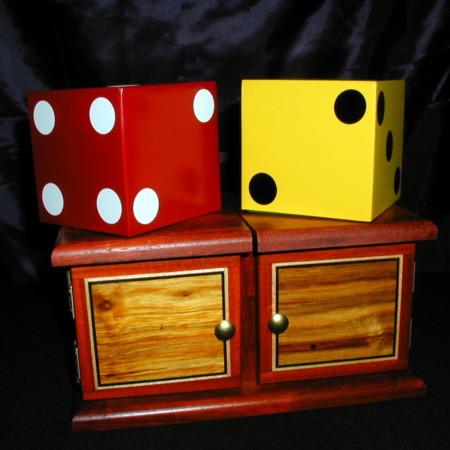 The Exquisite Joy of Mel Babcock at his Finest!

When it comes to Die Boxes, Mel Babcock really is in a league of his own. If you have never experienced the giddy feeling you get when you receive one of his packages you are truly missing out on one of Magic's great experiences!

This latest version of the Die Box, based on an old Thayer design, is surely the best Die Box Mel has ever made. As with his standard Die Box, the weight and feel of the box is perfect. You have to hold it to really appreciate how well it sits and works in your hands. All the actions are incredibly smooth.

Now for the extra features – the doors and ends of the box have inlayed wood panels which truly look beautiful. In addition you are supplied with two brightly colored and superbly painted dice, which during the course of the routine change places and finally change into two dice of totally different color.

I can't express how wonderful I felt as I opened my package today – but as far as early Christmas presents go, there is no finer!

A wonderful, wonderful piece of craftsmanship.

Highly recommended!


Click here for more information.