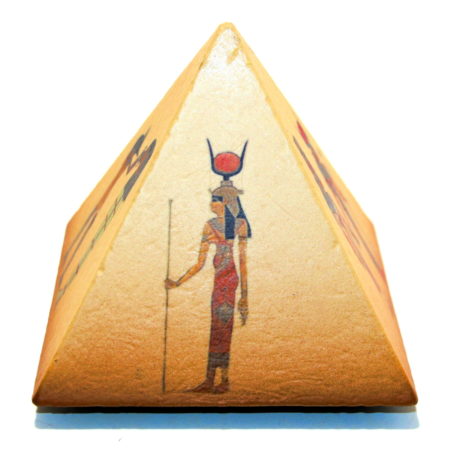 Not only is this Mummy effect beautifully crafted by Buma, it really is very clever how it works. Buma has closely thought out all the steps so it looks perfect. If you watch Buma's video performance closely it really is a fooler. Not only is the aged mummy transformed into the beautiful Golden Mummy how the heck did it get into the sarcophagus that is in the middle of the floor under the Pyramid – if you watch the video really, really closely you still probably won't see enough to show you how it actually works.
When I was playing with this for the photos I could not believe how the switch (yes there is a switch 🙂 ) worked so smoothly and almost automatically – and every time the Golden mummy ended up in the center of the floor in the tiny Sarcophagus. That in itself is a clever feat for sure! If you love clever close-up magic or Mummies and are prepared to read the instructions you'll have a little miracle on your hands! It is not difficult to do, but you'll need to practice the timing to get it as smooth as Buma. I urge you to watch Buma's video a few times because he really does a great job, and I think this is more effective when you appreciate how clean everything looks.
Click here for more information.