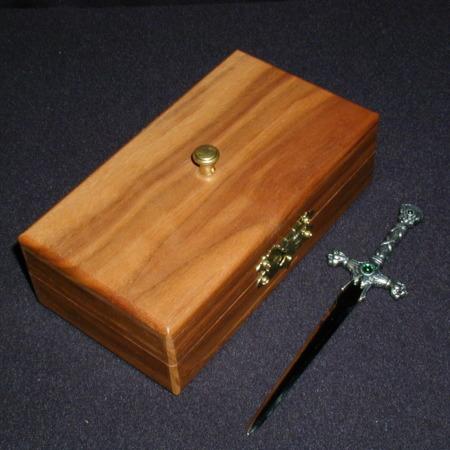 A Beautiful Box and Routine!

This is the Viking version of this effect and is certainly better than the original. Although, it comes with a clean prediction of any card that the spectator chooses using the sword it has many other uses where a card box is required. It has a unique release mechanism for the transformation which means the box can be handled by the spectator before the transformation if so desired.

The only real downside with this effect as it arrives from the dealer is that the sword it comes with does not fit in the box! This is quite annoying because one of the real justifications of having the box in the first place is to store the knife, deck of cards, and prediction.

However, after a quick look on ebay I found this great little 6" sword that looks the part and fits the box perfectly. If you look at the $link(734,original version) of this box you'll see how the knob on the lid has this big wide brass ring where the knob is, and on the newer version that does not exist. It's this sort of attention to detail that makes $link(http://www.vikingmagic.com/cgi-bin/dc.pl?html=about-us&tagent=martinsmagic.com,George Robinson) such a fine craftsman!
Click here for more information.