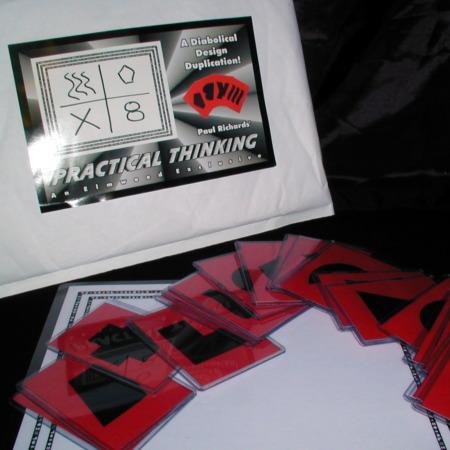 Simple Method and Mystifying Results!

Paul Richards is a nice guy and nearly all the magic that he creates is very deceptive and simple to do. Practical Thinking is no different.

The props and premise are simple: you show 20 different symbol cards that are mixed and you ask 4 different people to freely select a card (no force). For each spectator, without any prompting of any kind, you are able to draw the symbol they chose on a laminated sheet.

You can do this as many times as you want, and it can be repeated with different results. Nothing is added or taken away, and the props will last a long time. There are no sleights or memory work and short of Paul coming over to your house to perform the effect for you, he has made it as easy as possible to perform this miracle.

The cards supplied are in laminated pouches and are not laminated themselves – this makes them a bit more bulky than normal laminated cards. However, it doesn't make the effect any less real, and in some real sense makes the props seem a bit more normal.

This is a very affordable piece of quality mentalism!
Click here for more information.