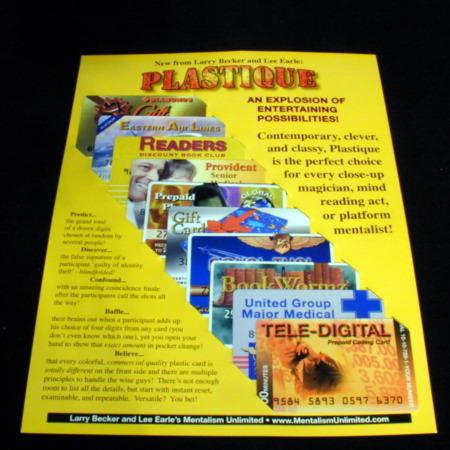 An Explosion of Entertainment Possibilities!

The sub-title for Plastique could not be more accurate: An Explosion of Entertainment Possibilities!. Embodied within these cards are many subtle codes and systems that the mind boggles how Larry Becker and Lee Earle could have come up with so many ideas. Well if you are familiar with their previous output it won't surprise you at all. These guys are geniuses, and this little collection shows that very clearly.

The package comes with 11 "gimmicked" credit cards, but you would never know. They are amazingly subtle until you know how. The instruction details 5 routines that are wonderful. Some can be combined to bring your audience to a fever pitch. Wherever possible they have incorporated the memory work into the cards themselves, so you have to learn very little to perform any of the effects.

There are no switches or sleights (well one routine has a tiny move, but sleight is too big a name for it!). The other great thing about these cards is because they have so many features built into them creating new routines from them becomes something that is very possible and exciting. These cards are simply frothing with potential!

They are very high quality cards, and easily pass for real cards. You've just got to love these guys' minds!
Click here for more information.