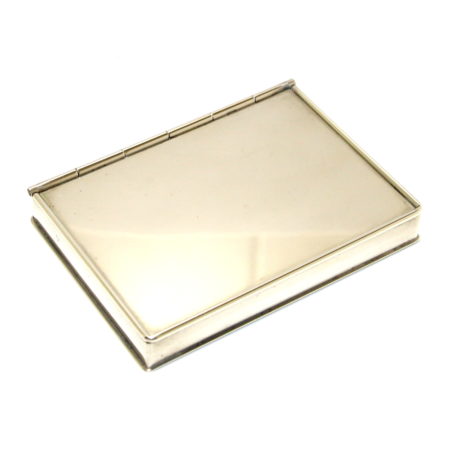 P&L created two versions of this aptly named Perfect Card Box: the Standard Model c. 1921 and the Thin Model c. 1932. They are both still pretty "thin" because the Standard is only 9/16″ thick and to be honest I prefer the Standard. To me this is easily the prettiest, most practical, most convincing, and one of the hardest to figure out of all card boxes I have seen. I prefer it to both Brema/Viking ones I have here and here, and the Joe Porper one too. When I received it, even though I have worked with over 40 different card boxes and I had the instructions in front of me, it still took me about thirty minutes to figure out how to open the flap. Once you have the knack it is easy, but that first ah-ha moment took me a while – which is the true test of the Perfect Card Box 🙂
Pictured is the Standard Model and it will vanish/change at least thirteen Poker sized cards. That is an amazing load and all in 9/16″ of solid silver. I am really amazed by this stunning card box! Although I've read that P&L only hallmarked the Thin Model with their famous P&L Logo that is not true because this is the Standard Model and the P&L Logo is clear as day. This was made with what P&L call Solid Cupro Silver – this is probably what we call Sterling Silver today (since Sterling Silver is silver with about 7.5% copper added for strength), and it shines up beautifully with a bit of elbow grease and polish.
Click here for more information.