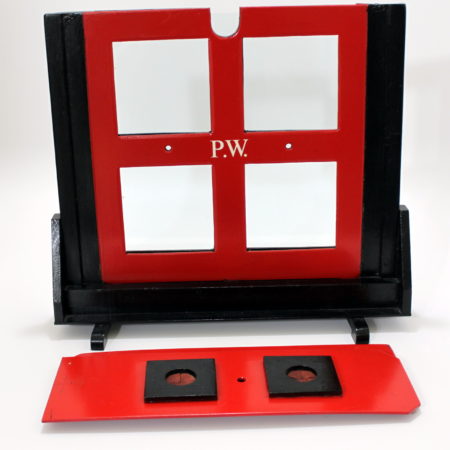 One of my favorite glass penetrations is the Glass (Quadruple) Penetration that was invented by Peter Warlock in 1937. It is sometimes known as the English Glass Penetration and there have been a number of versions created, even as recently as 2008 when Magic Wagon created their Mod Quad Penetration.
The basic effect is as follows: an attractive square frame has four windows, and two doors. An unprepared sheet of glass fills the frame covering the 4 windows. Doors are closed and a solid rod or pencil is then poked clear through the holes in the center of each door. Ribbons also run through all holes. When doors are finally reopened, tho glass is seen to be unharmed and there is no sign of damage or holes. Only one piece of glass is used. It is a wonderful illusion and a real fooler for sure.
This beautiful version actually belonged to the famed inventor and prolific author himself: Peter Warlock, and it is easily the best version of this effect I have seen.
Click here for more information.