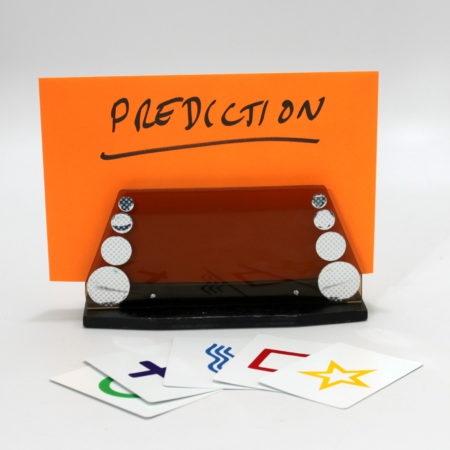 Wonderful Utility Device

So you have to admire Magiro's mind – many of his items are really clever, and this utility device is no different. It looks like a simple envelope stand but it can be used to create some amazing predictions.

The most basic prediction allows them to select any one of five cards (no force) and you simply pick-up the envelope, and rip it open and there is their card. No double envelopes or double faced cards either. And before you open the envelope you can show it on both sides too – nothing is hidden in your hands or behind the envelope, the chosen card really is inside the envelope.

But what is even more impressive is they can choose 1-5 cards and you can still end up with the multiple cards in the envelope, so this takes it way beyond just 1 in 5. It can be used for playing cards, ESP cards, business cards and billets too.

Something a little different – no electronics and nothing to run out – and works every time.

Great for Magician's and Mentalists.
Click here for more information.