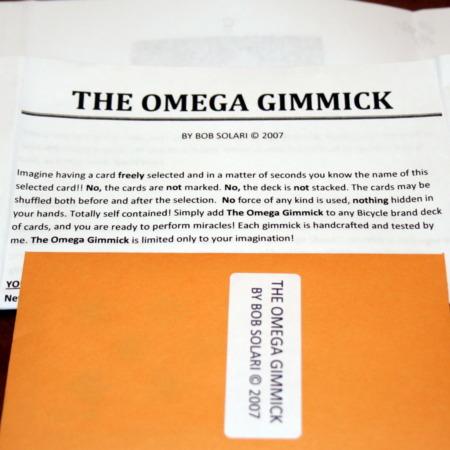 Bob is Back!

Where have you been Bobby? Good to see that $link(nd=gallery&keywords=Bob%20Solari%20Magic&flag=Bob%20Solari,Bob Solari) has finally got his A-game back with this new release. Although it is the same principle as the old Chazpro Card Swami (as Bob rightly points out in his instructions and ad copy), this gimmick is more practical, easier to use and, unlike the Card Swami, available today. Bob was totally unaware that the Card Swami even existed until I pointed it out to his good buddy Howie at The Trickery.

The gimmick allows you to determine which card or cards are chosen in a very clean way. And your hands are clean before and after as the gimmick is added to a normal deck and is almost undetectable.

The instructions are clear and photo-illustrated, though they are only of the basic handling. There is a booklet (Card Swami) you can get from $link(http://www.chazpro.com target=_blank,Chuck Leach at Chazpro) that has a more detailed set of ideas with this wonderful gimmick.

Well done Bobby – good to see you back!


Click here for more information.