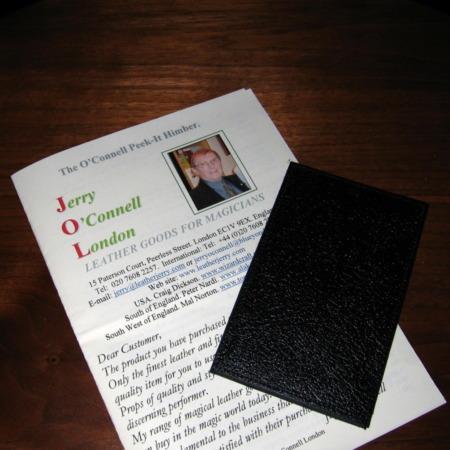 What a Fabulous Peek Device!

Ok so you know how much I love $link(nd=gallery&nav1=faves&keywords=connell&flag=Jerry+O'Connell&tag=jerry,Jerry's leather work), and particularly his marvellous Himber wallets? Well, with this item he takes one of his beautiful mini himber wallets and turns it into a Peek wallet to end up with a great utility prop!

If you use Jerry's Gesture Change the move almost happens automatically, and because of the wide area for the peek it is easy to read anything they write on the whole business card area. Also, because the himber wallet is so flat and thin it is easy to show the wallet all around before you peek should you so desire.

As with all peek devices it is typically the performer who gives away the peek, not the prop. With Jerry's Peek-It Himber I'd like to think that you feel so confident about doing it that you won't in fact give it away at the crucial moment.

What a fabulous utility item for the mentalist or magician.
Click here for more information.