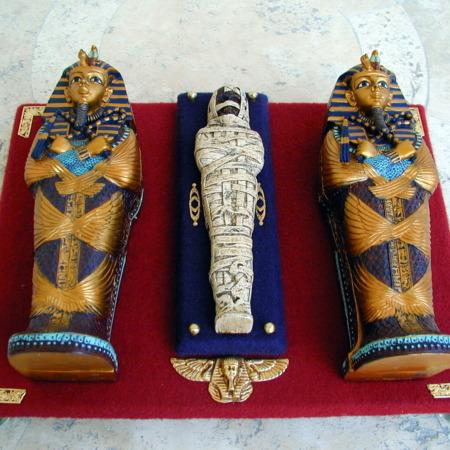 All other mummies pale next to these Beauties!

So with great anticipation I received my Mystic Mummy from Richard Gerlitz yesterday. I was unfortunately put off by something that no one else sees, the bottom of the base was unfinished. Richard, of course, immediately rectified that and the very next day shipped out a painted and finished base – which all subsequent bases will have. That is service the Gerlitz way!

Now that I have the base out of my head I can sit down and really take in these beautiful Mummies. And they really are beautiful. I have taken 6 sets of photos so far and still not happy with them. But the ones I have will have to do! Not only do they look like a work of art, but there are no moving slides or switches, and no sounds to worry about. My wife loves them too!

This is the last Gerlitz piece I can afford for a while, but what a way to go! Richard Gerlitz really has created the best version of this effect that I have seen. Compare these with the Taytelbaum Mummies that susposedly sold for $3500 a few weeks ago on ebay and I'd take these any day of the week.

Richard you are a beautiful man! Thanks for your quality and dedication to your art!
Click here for more information.