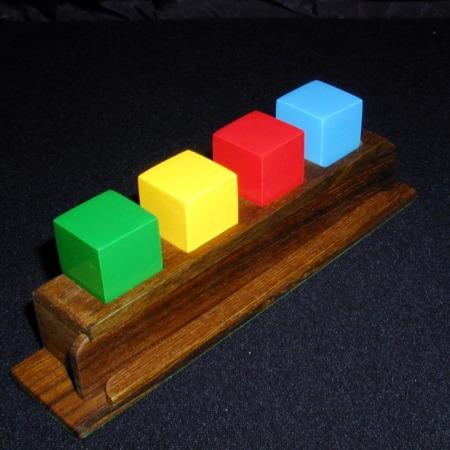 Still one of Alan's Best!

I have reviewed this wonderful effect before and I still love it! I recently acquired another because I noticed how the colors match perfectly those of the light bulbs in the $link(861,Wellington Mini-Magic Switchboard). This made me realise I could use it in conjunction with that prop as a wonderful way to predict the order of the bulbs at the end for a kicker finish!

Until recently I had every single piece of $link(http://warner.qualitymagic.com target=_blank, Teak Mini-Magic that Alan Warner) had created, but I sold them earlier in the year due to a cash flow crisis! As things are improving again for me you might find me re-purchasing the odd Warner effect, but this time I am not buying just to have it as a beautiful collectable but to use them in my close-up show.

Alan's Magic is wonderful and its kind of a shame that its so valuable as it means less people actually perform it. But his magic is very performable and if you can get over the value part try and perform some of it – I believe you will be very happy and get even more out of your investment.
Click here for more information.