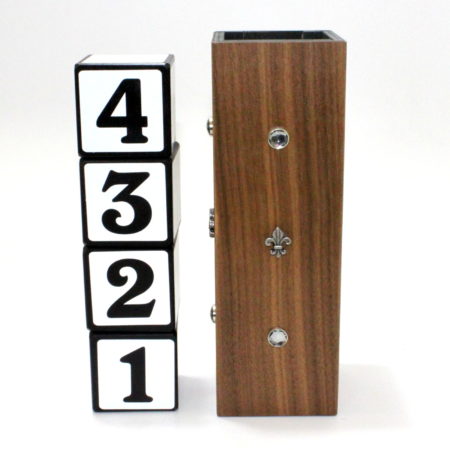 This is even better than Gimpy's fabulous Demi Cube.
I've owned a number of Cube-a-Libre's over the years. The biggest problem with the basic trick is there are just too many blocks which takes a long time to perform and gets too confusing for the spectators to follow. Harries' solution to the problem was to just have one set of 4 blocks with their Crazy Cubes. That was a great approach but the blocks were still pretty large. Gimpy himself also has a wonderful other item with just three cubes called Demi Cube which is also a beauty. But I think what Gimpy has done with his Mini Cube-A-Libra is perfect!
Firstly, they are made perfectly and the size of the tower is just 9″ high, with each cube 2″x2″ – a very manageable size. The blocks and tube are made of wood and the gimmicks are made of aluminum. The gimmick to control the blocks is cleverly concealed in the exterior decoration of the tube and on a simple glance you could easily see all sides of the tube without spotting anything. There are no holes to cover up and hide.
Secondly, there are only four cubes in each stack – this is easier to follow, still very magical, and easier to learn and perform.
Finally, the tube is created in such away that you turn the tube upside down and the gimmicks will not fall out so you can handle the tube even more freely.
Thanks Gimpy! Good to see you still in action and producing amazing magic!
Highly Recommended for Collector's and Performers.
Click here for more information.