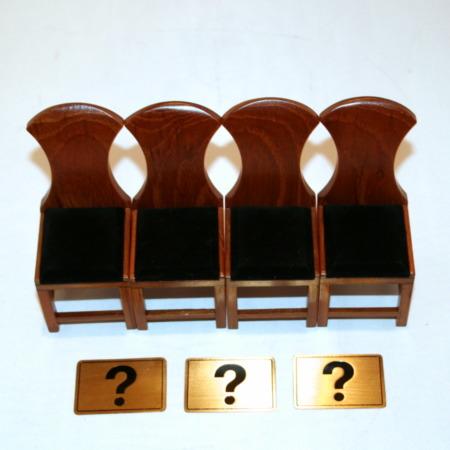 Amazing Mini Magic Mentalism!

So the $link(nd=wagoncollector,Magic Wagon) have been producing some spectacular magic over the last couple of years but for the most part many collector's and dealers have not figured out how amazing their magic is. After Martin's Magic, Howie at the Trickery has been their biggest champion and supporter, but there have been few others. When this item came out it seemed to usher in a new level of amazing and finally turned the heads of some collectors and dealers. Now people can't get enough of their magic!

This item is another beauty with a clever method and breathtaking props. You show four chairs and three brass prediction plates. The spectator freely places the plates on any three chairs. When the plates are turned over they each have a different color which matches precisely the color on the base of the chair. Now when each of these chairs is turned around they bear the word "Seated" on a brass plate, but on the one they did not choose the plate is empty.

This item can be repeated with a different result each time and is very clean in execution. Each chair is hand crafted of genuine teak and the workmanship is collectible quality.

This is another Highly Recommend item!
Click here for more information.