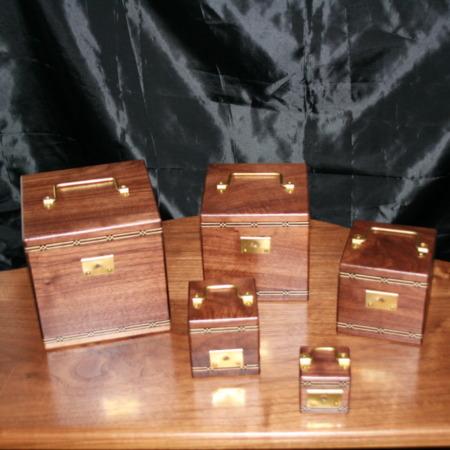 Wonderful Boxes that are small enough to use!

I was very pleasantly surprised when I received these boxes from Howie – the Hobbit's Best Friend – at $link(http://www.thetrickery.com/?nd=full&key=8322&myaf=9195 target=_blank,The Trickery). I have been a bit dissappointed with some of his wood work, ever since the wonderful Jerry went AWOL. However, this set is almost where Jerry was – not quite, but close enough to get 5 stars. They are not $link(nd=ggs,GG Standard), but with some relatively minor effort they could be.

What is particularly nice about this set of boxes is that they are really quite mini – the largest box is about the size of the middle box of the most beautiful $link(1195,Mel Babcock Nest of Five). This makes them more practical if you were planning on actually using them. The "locks" are also very easy to use since they are just strong magnets and the lock itself is more for decoration. This makes for fast set-up and presentation. The method employed is the Berg method, although unlike other sets I have seen the 3rd box is gimmicked, not the 4th. But this might be a useful improvement, since you are free to hand the last two boxes to the spectator. Of course if you have the new $link(3314,Mel Babock Nest of Five) then this is not a problem anyway.

The inlay work looks very nice and when displayed there is no doubt these boxes are very pretty. They make a very striking display when laid out on your table. They are not quite as good as Mel's set, and the woodwork is not as precise as Alan Warner, however with just a little more attention to detail I think they could be. Most people would be very, very happy with this set, and at the price they do represent good value for sure.

The thing about getting into the $link(nd=ggs,GG Standard) is the little things, its not enough to just do some really nice wood work, you need to make sure everything is high quality – the brass fittings, the finish, the consistency of each piece, etc. These boxes look really nice from the outside. Inside they are not finished aswell as they should – just an extra 30 minutes of rubbing and cleaning would have made all the difference. The brass locks and handles are a mixed bag for sure – most look fine, but for example on my large box the clasp holding the handle is two different sizes – not that noticable unless you are trying for the $link(nd=ggs,GG Standard) – then it sticks out like a sore thumb. Clearly, using two clasps the same size would have been just as easy as slightly different sizes, but the attention to detail was not there. Finally, the lock on the 4th box just looks odd, its placement is inconsistent with the rest.

Again, these are minor points, but when you start to enter this market it is precisely the minor points that become major issues. However, I am very pleased to see Howie has stepped up his game, and if he can keep this wood guy around for a little longer I have no doubts that he will become a serious player in the fine wood collectable market!

Keep them coming Howie!
Click here for more information.