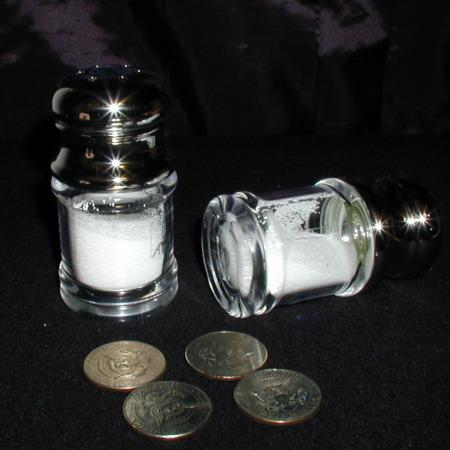 Sadly, this is no Al Goshman!

Well this is a nicely produced set of salt shakers from Mikame. They have one primary goal – to make us all look as good as Al Goshman! Well not really, but at least they try to make his signature effect ($link(http://www.qualitymagicbooks.com/?nd=full&key=1923 target=_blank, Salt & Pepper Shaker, Page 39, Magic by Gosh)) possible for mere mortals.

To replace all the sleights required for Mr. Goshman's effect including: The Edge Palm, The Classic Palm, The Clink Pass, The Coin Roll and The Toss Vanish amonst others is a tall order for any mechanical device. And of course even then you just have the mechanics, you'll never get close to his Performance!

But if you want to produce coins seemingly at will beneath the salt shaker without sleight of hand then this is the outfit that is meant to do it. And when I first tried it out, I tapped four times and each time one coin appeared and I thought wow, this is cool! Unfortunately, as I played with the props more sometimes no coins appeared and other times two or three appeared. So the skill required is knowing how hard to tap. Unfortunately I fear that you will always be worried about the wrong number of coins appearing.

Which leads you back to practicing the actual sleights so you can in fact control precisely when coins appear. So my advice is to buy the Goshman book (for less than these shakers) and practice the effect as it was meant to be seen. This is one item that I don't feel comfortable leaving to mechanical means.
Click here for more information.