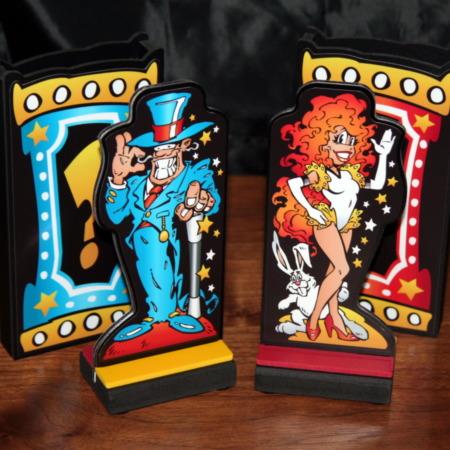 The Number One Wolf is Back!

The cure for my magic doldrums is a healthy dose of beautiful magic from the true modern day master builder: Chance Wolf. I have been struggling of late as to what I should buy, what I should sell, and whether I should I just take a break from magic for a while.

Then along comes the Crazy Wolf and produces the cutest, most robust, brightest, fully functional, modern, micro collection I have ever had the pleasure to own. Every piece in the collection is a joy to behold and every detail has been thought out. I am not sure if I'll ever perform them in a formal show, but that is not a great surprise because I have almost never performed any of my mini-magic effects from my good friend Alan Warner either.

The Genius of Chance is by making micro versions of his larger flagship products, they will certainly appeal not just to kids performers but to collectors of beautiful magic everywhere too. When you see the quality of the finish you absolutely have to have them. You can perform them too, which is almost too good to believe.

Wolf's Magic is not only the #1 Leader in Innovative Children's Magic, they are also the #1 Leader in Innovative Micro Magic too. They just keep getting better.

These would make beautiful presents for all of your magical friends so go order them now before they are all gone!

Most Highly Recommended!
Click here for more information.