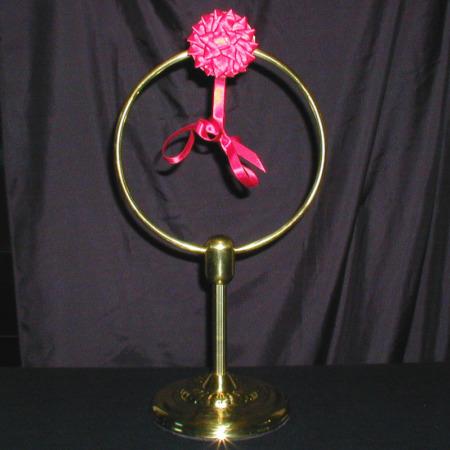 As if by Magic the Ring appears!

Well I've been complaining for a while now that there is no good, cool magic out there to buy. What a load of horse that is!
I did not realize how much good magic I was missing by over looking a few key Collector's Workshop effects. Just in the last few weeks I've picked up: $link(1554,Creation), $link(1553,Billet Box), $link(1555,Samurai Sword), $link(1559,Can of Corn), and $link(1545,Zodiac) to name a few. These are all wonderful effects, that if you don't own you should check them out at: $link(http://www.collectorsworkshop.com/?tagent=martinsmagic,Collector's Workshop)
This little beauty is another real winner. Easy to do, remote control, visual, and very perplexing.

A ring is borrowed and vanished and without you touching the ribbon it suddenly and visibly appears tied to the ribbon!
Sometimes when I buy expensive props they just don't work as well as you would expect, but this marvel has worked everytime so far and really didn't take any getting used to. I only wish all high-end props were this simple and error free! A wonderful prop, and highly recommended!
Click here for more information.