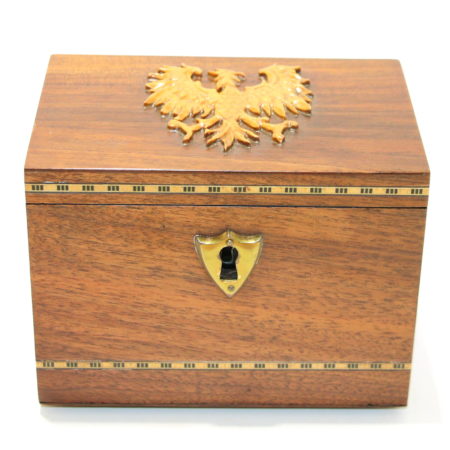 My favorite Anverdi item is his very clever and perplexing Key Box c. 1982 from almost forty years ago! Until recently I thought it was at the top of the food chain for effects that became known as The Seven Keys to Baldpate by Annemann and invented by Joseph Kolar c. 1927. That is until I saw this rare beauty, Keyrumba c. 1990, from the amazing Carl Williams. And what a stunning beauty it is.
It is a beautiful prop for sure. The effect is well known but Keyrumba is about as clean as you can get and operates by a hidden remote control so there is no need for the extra box used by Anverdi's Key Box. Keyrumba comes with eight identical keys and you can use as many or as few as you want for the routine – any one will open the box or not, 100% under your control.
The props supplied are of the highest quality, as expected from the late master craftsman Carl Williams. The chest is perfectly crafted. The inlaid woodwork is beautiful. The set offered is complete with the chest, all the keys, remote, necessary setting tool, and a photocopy of the original instructions and extra tips.
Click here for more information.