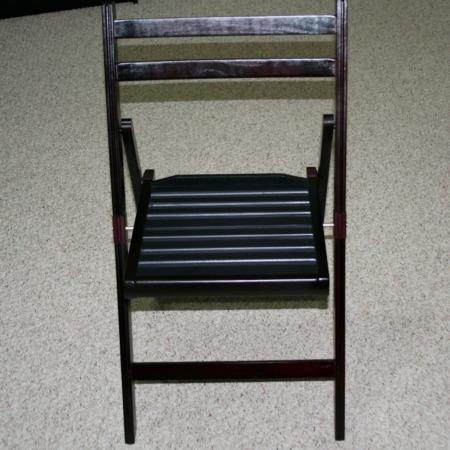 George has done it again! Pure Magical Perfection!

George Robinson may not be the fastest guy in the South, but when he does deliver boy is it exciting! This new and vastly improved version of the classic Collector's Workshop item is a case in point. I have always liked the effect, but was not too happy with the old version. Like many items from the Original CW – it was a great idea, but not always built as practical and fool proof as is required in real performances. When you buy these higher end items you need them to work every time, otherwise there are absolutely useless.

George has rebuilt the whole thing from scratch and not only is the mechanism effectively invisible it is now triggered using remote control. It works flawlessly and the mechanism is silent. It is a beauty to behold. The reset is a snap and accessing the mechanism is easy too.

Both chairs look almost identical and unless you knew what you were looking for you'd be hard pressed to see a difference between the chairs.

This is truly an effect where you can concentrate all your efforts on the presentation, because the high-end electronics and superior design does all the rest for you.

I for one don't mind waiting for magic this beautiful and amazing – keep them coming Georgie, and take as long as you need.

Most highly recommended for Performers everywhere!
Click here for more information.