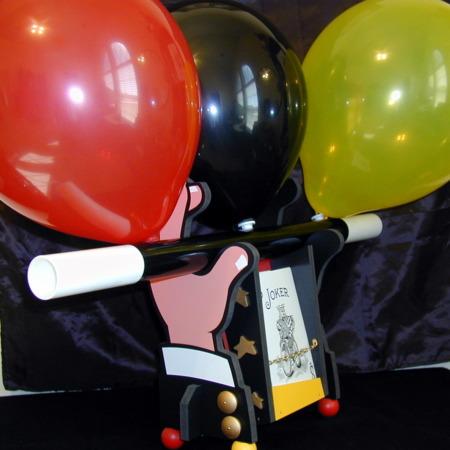 Workable and Beautiful Props!

This is the $link(//www.martinsmagic.com/?keywords=Wolf's%20Magic&html=gallery&nav1=gallery&flag=Wolf's%20Magic,third item) I have from the very talented Mr.Wolf over at $link(http://www.wolfsmagic.com target=_blank,Wolf's Magic). As with the others, it is beautifully made and very functional. It took me about 30 mintues to try this out including opening the well packaged box.

The instructions are bright and very clear and on the very first attempt of trying this effect all the balloons worked exactly the way they should. For a balloon wand/table type effect this is almost unheard of. Every effect $link(//www.martinsmagic.com/?html=gallery&keywords=barnum%7Ccomedy+balloon,I've owned) up until now has required quite a lot of tweaking to get the balloons to pop and blow away on cue. Not so with this. Chance has clearly thought through the usability aspects of this effect.

Unlike his previous two items this effect does not have quite the same unique, zany routine but it still is a wonderful prop with all the fun of any other Balloon Wand. The set-up is very easy and the props very solid.

What I like about the Wolf's Magic line I have seen so far is that not only are the props beautifully made, very colorful, and uniquely designed – they actually can be used by real performers for real shows. This is sadly not something I can say about a lot of higher end collectable props.

Wolf's Magic is certainly turning a few heads in the magic Industry, and about time too – this is the way magic should be built and operate. Highly recommended!
Click here for more information.