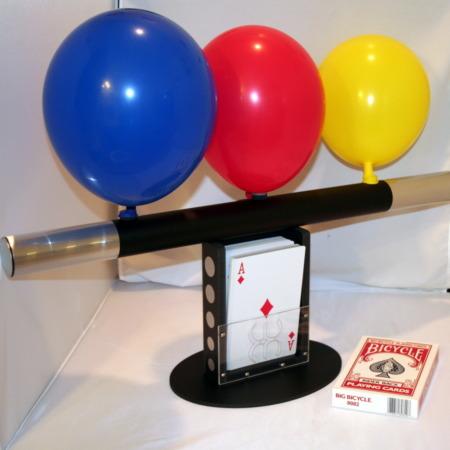 Time to Peform Magic again!

One of the problems of collecting a lot of magic is that you never find time to actually perform it. The real magic only occurs when you perfrom in front of a live audience. The ironic thing is that many effects that are prized collectables are often not practical to perform. Not so with the $link(nd=wolfsmagic,Magical Wolf Man!) His magic is for sure collectable, but it is even more performable.

This is the second version of his Jumbo Balloon Wand, based on the original Balloon Tray by Warren Stephens. The first $link(1911,Jumbo Balloon Wand) was great, but it was aimed more for kids shows and slightly less streamlined. This new version works great for all audiences. It is a dream to set-up and like all of Chance's amazing magic works 100% of the time. When it comes to performing magic, any prop that doesn't work 100% of the time is going to stay on the shelf most of the time – maybe this is why they are called Collectable!

As with all of my recent $link(nd=wolfsmagic,Wolf's Magic) purchases this will stay in the collection and I look forward to performing it to real people soon!

Thanks Chance for maintaining such consistent high standards in all of your great Collectable and Performable Magic!

Highly Recommended
Click here for more information.