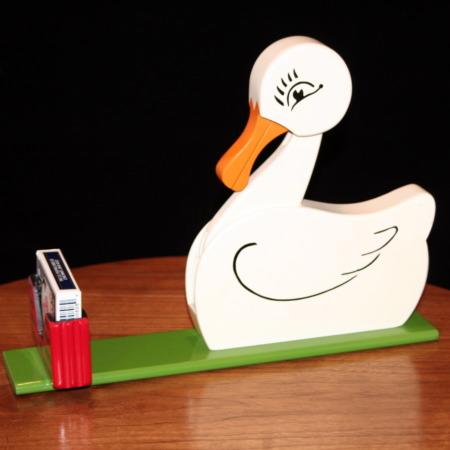 There is only one Duck!

For years and years I thought I owned a genuine Warren Hamilton Duck, but it turned out that it was one by $link(1131,Dick Chavel). Well the Dick Chavel one was easily the best duck I had used up until I recently acquired this orignal Hamilton. The paint job is amazing and the action is very smooth.

Until Chance Wolf comes out with his Duck (shortly I believe) the best duck by far is still Warren Hamilton's Jo-Anne – and I should know I've $link(nd=gallery&keywords=duck&chunk=100, tried a few) over the years. A close second is the one by Dick Chavel – which looks very similar to the Hamilton one.

Whatever duck you own, without a good routine it will never have the impact it can. This is one of those props that requires good acting and presentation skills. But if you put the time in you'll have an enduring crowd pleaser!
Click here for more information.