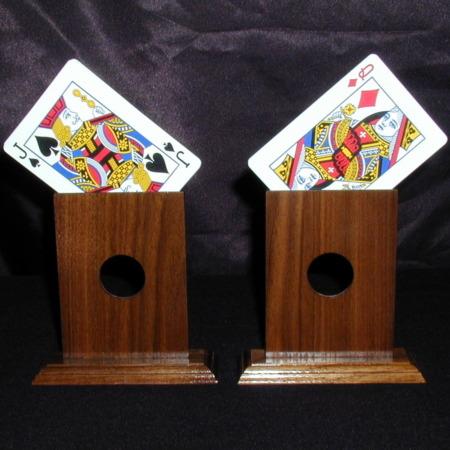 Wow! These are beautiful!

Ok so Howie and Bob spent some time with less worthy craftsman – that glue and pencil guy, that tricky shamrock guy, … now finally they are working with a real pro. If you saw the old Jack and Jill that Howie sold these are so much better its like a whole new trick.

They are very thin and beautifully finished. The cards are expertly made and the effect is just so clean now. You place the jack in one holder and the queen in the other and instantly they swap places. Even though they can see the cards at all times.

If you are a medium to high high-end collector that appreciates the fine Magic of craftsmen like Alan Warner and Mel Babcock, you will surely appreciate the workmanship in this new release.

You can only buy them from Howie and Bob $link(http://www.thetrickery.com/Detail.bok?no=3420,over at the Trickery) – do so now before the run is over. They are exquisite!
Click here for more information.