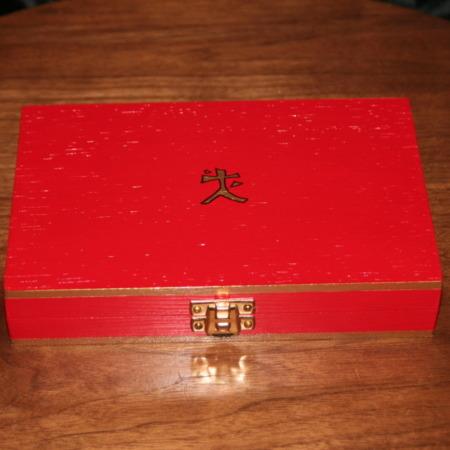 Storying telling of Epic Paddle Proportions!

This newest set of paddles from the French Craftsman, $link(nd=danis,François Danis), takes story telling to a whole new level. With this set he uses all six paddles to take you on a magical journey through Japan in the Middle Ages, and what a great ride it is!

I have never seen paddles woven so extensively into a patter presentation, and I am very impressed. What I think is particularly cool is you now have a reason for these funny shaped pieces of wood – they are your story boards to explain and enhance the story. What a great idea!

These particular, paddes are made in Mahogany and the box is made in oak plywood and painted a crimson red with gold trim and symbol on the front. A very striking display to be sure.

François has been slowly, but surely growing on me and I feel quite certain that he will be around for a long time to come, and we will continue to marvel at his fresh take on beautiful magic.

Highly Recommended, and amazing value (at least for now)!
Click here for more information.