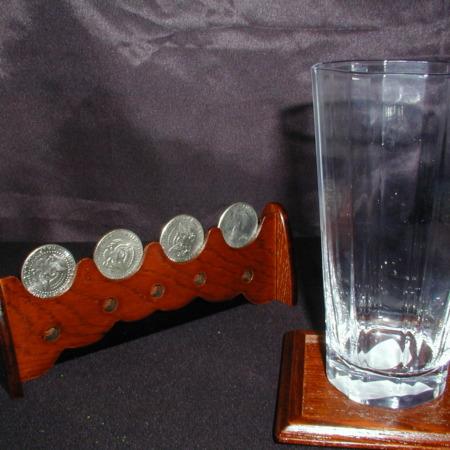 Now this is a Coin Stand!

This is the finest Coin Stand $link(//www.martinsmagic.com/?html=gallery&keywords=coin+stand%7Ccopenetro%7Ccoins+in+glass&chunk=100&flag=Coin%20Stands, I have owned). It looks deceptive, works very smoothly and has the unique ability to produce 4 coins back on the stand at the end! The holes drilled beneath each coin make the illusion even more convincing.

The coaster idea for making the coins appear in the glass is also a winner – not quite as effective as $link(1509,Copenetro) or $link(188,Hughes' Coins in Glass) – but given the simplicity it still scores high.

This was a real pleasant surprise when it arrived on my doorstep. Another really winner from Mikame Craft!
Click here for more information.