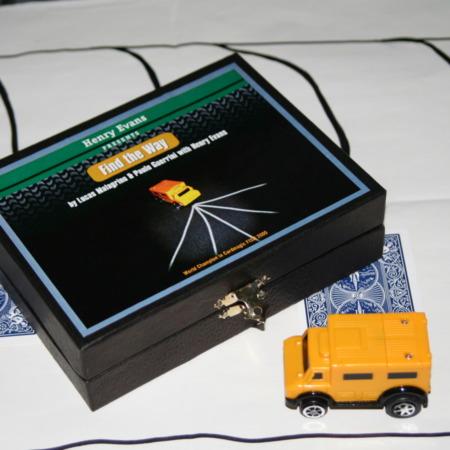 Wow! This is amazing!

So there are lots of effects based on the Koornwinder Kar, where the car finds the spectator's selected card, but there is nothing I have seen like this amazing little car.

Yes the car finds the spectator's card but how it finds it is so wonderful you'll be playing with it just for fun! In the standard routine you draw 4 tracks on a piece of paper and place a different card at the end of each track. The tracks can cross or start as one then diverge, but the car always travels to the right track and hence finds the specators card. Everytime!

There are no magnets or hidden shims in the paper and in fact the paper and car can be examined – there is nothing to find. The spectator can even place the car on the track! The basic ability of this car is that it will always follow the track you want it to. You can create complex tracks and lines and the car will follow them. You just need a pen to create the track and you are off – just a normal pen and a normal piece of paper.

It really is an amazing idea – goodbye Koornwinder Kar this is so much better!

Highly Recommended!
Click here for more information.