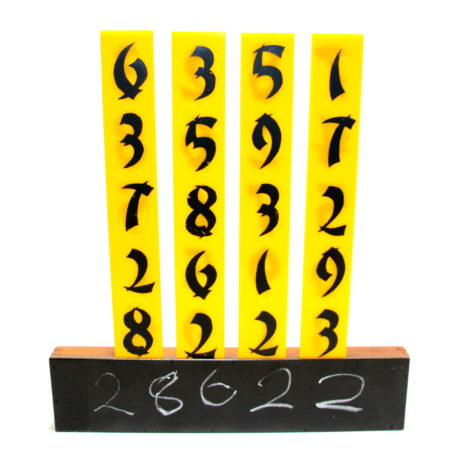 I love this version of the Fantastic Figures of Foo from Jack Hughes that Jack created under license from Regow's Magic Studio in the USA. The whole outfit packs away neatly in the beautifully made stand which acts as a carry case for the paddles and chalk as well as the stand during the performance. The paddles are large enough to be seen on the stage or in a parlor situation too. A real beauty and the stand even has the the original "Jack Hughes Maker of Magic" label still in place. It is really easy to do and you'll be doing this within minutes of receiving it.
Effect: Display the four paddles, calling attention to the fact there are 5 sets of numbers on each side of each paddle. Thus each of the paddles contains 10 entirely different sets of numerals. Hand the paddles and easel to a spectator for examination. Then instruct him to place the paddles on the easel in any arrangement he desires. There is no force and he has a free choice. Call attention to the fact there are over 300 different combinations possible. Magician steps away while the spectator arranges the paddles. The spectator is instructed to add up the columns of figures as he has arranged them and to write the answer in the space provided on the bottom of the easel. After this has been completed, the Magician, without once seeing the front of the paddles announces the correct answer.
Click here for more information.