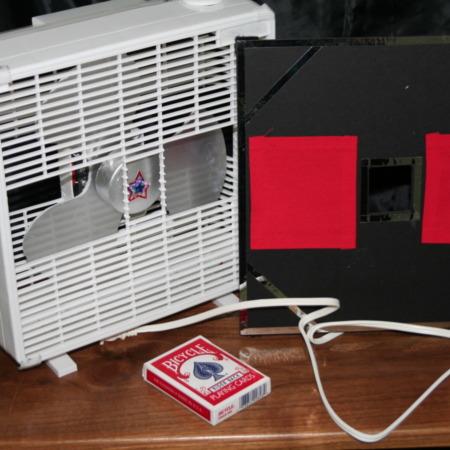 A Great Mini Illusion

This is a wonderful mini illusion that is great for parlour or small stage settings and it looks pretty amazing. In effect you have a card chosen and discover it is the wrong card. As punishment you fire up the fan and the audience can clearly see the fan rotating back and front. Then you put a cover on the front with two armholes and you take their card and thrust it through from the back of the fan. When you hand emerges out the front, the card has been ripped up but it has changed to their card, and your hand is unharmed, with the fan still spinning!

The motor can be heard all the time and the fan can be seen to keep spinning before, during, and after your hand goes through. This item looks just like a real fan of about 10" x 10". This makes for a great alternative to head and wrist choppers, and looks more dangerous.
Click here for more information.