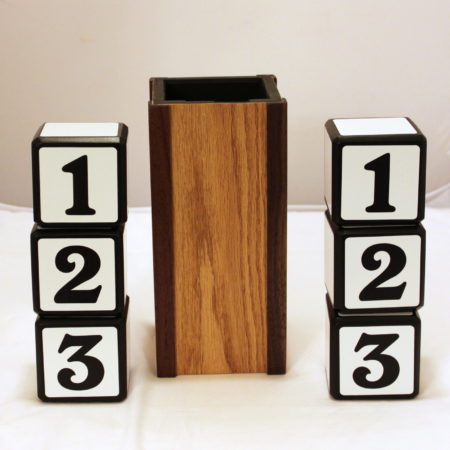 Finally a Cube A Libre that you'll use!

I've owned a number of Cube-a-Libre's over the years. The biggest problem with the basic trick is there are just too many blocks which takes a long time to perform and gets too confusing for the spectators to follow. Harries' solution to the problem was to just have one set of 4 blocks with their $link(nd=gallery&keywords=crazy.cubes&tightsearch=1, Crazy Cubes). That was a nice approach, but I love what Gimpy has done with his Demi Cube.

Firstly, they are made perfectly. The blocks and cover are made of wood and the gimmicks are metal. Each gimmick is covered with flocking material and the base of each cube is too to minimize noise and scratching. Great idea #1.

Secondly, there are only three cubes in each stack – this is much easier to follow, still very magical, and easier to learn and perform. Great idea #2.

Finally, the tube is gimmicked in such away that you can lift up the tube with the gimmicks contained hands free. Once the mechanism is activated the gimmicks are safely locked into place until you free them – this makes the moves much more natural. Great ideas #3.

I buy a lot of magic and keep less than 10% of all magic I purchase – but I love this item so much, I'll be keeping in my collection for now. It is beautiful, practical, and amazing!

Thanks Gimpy! Looking forward to your next release!

Highly Recommended for Collector's and Performers.
Click here for more information.