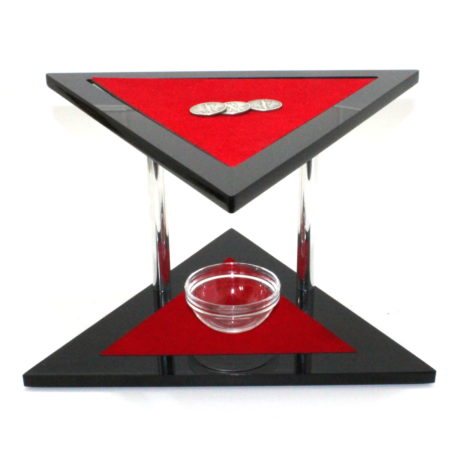 Wow! Dean's real Miracle!
This is truly a miracle effect from Dean Dill. Not only is the effect in the miracle class, but the props are too!
When you drop down this sort of cash for a trick it better be really, really good – but sadly it often is not. In this case however, you easily get your money's worth. The table is beautiful and unique, the coins are flawless, and even the travel case is perfect.
The routine has been painstakingly thought through and the performance DVD by Dean himself takes you through all the steps. If only more manufacturers would follow through with this much attention to detail, we'd have a lot more great magic, and a lot less trash filling our shelves.
This effect is not self working, but it is certainly not difficult either, and when you spend this much on an item it is certainly worth spending a bit of time getting used to the routine. Once you have mastered the moves you will blow them away every time.
Thanks Dean for making perfect magic – you have set the bar very high for magic, for value, for quality, and for entertainment.
Most Highly Recommended!
Click here for more information.