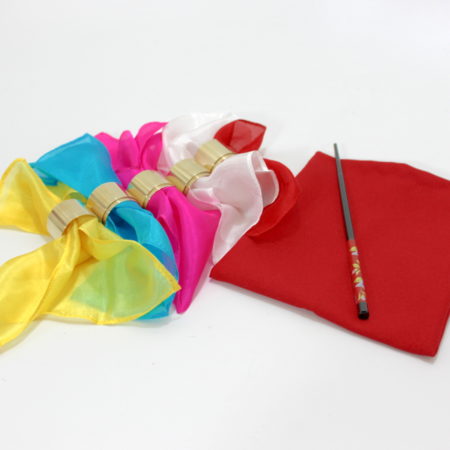 What a Pretty and Clever Effect!

This is one of the early Collector's Workshop items that is often overlooked. You can still get it today and you should! When you see the price you will be even more excited to get one as it is great value too!

Briefly the effect is this: You show five brass napkin rings each with a different colored silk passing through. You take each brass ring and remove the silk and place it in a supplied blue bag. As you remove each silk you can clearly show the brass ring is empty and you assemble each ring together to form a tube. The tube remains in full view all the time. Then, you have a silk selected from the bag and this silk vanishes leaving just the other 4 silks. You now turn to the tube and push a wand or pen or similar and the chosen, vanished silk pops out from the end of the tube.

This is easy to do though the handling takes a little practice and nothing is added or taken away. You will be delighted with the way the gimiick works so well.

I really like this hidden gem and I think you will too.

Highly recommended
Click here for more information.