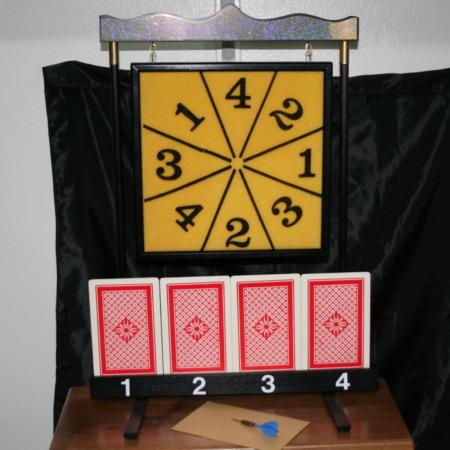 Clean Prediction, Impressive Props

Harries of Sweden make some great magic props for Parlor and Stage. Their quality is not that of Milson Worth or the modern master Chance Wolf, but they fall in line with the old Magic Hands company or Mephisto Huis and are one of the best regular dealers producing magic today. Certainly better than Mak and Abbotts here in the States.

This effect uses large props suitable for parlour or a midsize stage and allows for the very clean prediction of a number that is chosen by the spectator throwing a dart at the board. Plenty of byplay opportunity with the dart (it is a real dart) and the work is all done by the props. It even allows for a different outcome for repeat performances. They simply throw the dart and you turn around the card at the number they hit, and it is the same as the card in the prediction envelope – which can be held and opened by a member of the audience.

This is a great effect but it is a large prop and is not designed for close-up. I would have loved a version of this that was smaller and more suitable for close-up since that is the sort of magic I do these days (hence the 4 stars!).
Click here for more information.