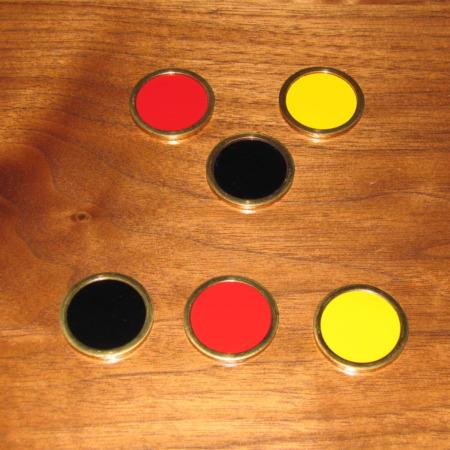 You can't go wrong with Eddie Gibson!

Eddie Gibson makes some very fine coins and this item is no exception. It is a very simple idea that works very well indeed and the coins are beautifully made.

Basiclly the effect is you show 3 pairs of chinese coins with red, black, and yellow chips on one side. You show both sides of the coins then turn over 3 for the spectator and mix them up. You leave your 3 face up as a prediction. The spectator then chooses each coin (no force) and you place it on top of their chosen prediction chip. This is repeated for each coin. When they are turned over it is seen that they colors match perfectly.

This effect is available in sets of 6, 8, and 10 coins and is very easy to do.
Click here for more information.