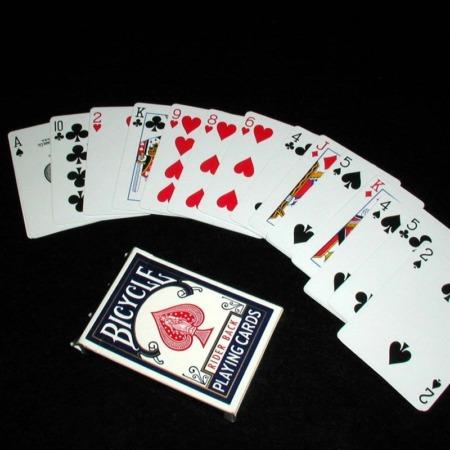 A Perfect Opener for my Walk-Around routine

This deck I first purchased as "The Phanto Deck" from Ron MacMillan and his International Magic in the 70's living in ht UK. When I moved to Texas in the '90's I found it again in Bicycle cards but it was called the Chameleon Deck by Buddy Anckner from Tannen's. I'm not sure who invented it originally, but I am very grateful. I always open up my Walk-Around routine and many of my close-up routines with this effect. It is the Perfect Opener: easy to understand, very visual, and very magical to the lay person.

The routine I use is as a portable breathalyzer test and I breath on it first to show a normal deck of cards with blue backs. Then I get my first reading and a red back shows up, but I get a second reading just in case of a false-positive. Then I continue by showing all the deck all reds and all the same card. After this I go to the other side of the audience to get a different reading and the cards to all blank. "Boy, I don't know how you're standing – that is truly Magical!"

I love this effect and many people have told me it is their favorite effect.

Highly Recommended.
Click here for more information.