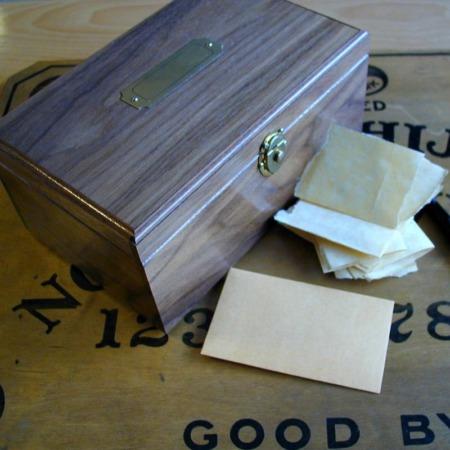 A Beautiful Box and Routine!

This chest really is very beautiful and works very well. One of my favorite routines is this:

You distribute 15 different pieces of paper to them – 5 green, 5 yellow and 5 blue (or whatever colors) – and each member writes a question on their piece of paper – one on travel, one on sports, one on politics (or whatever – basically you ask them to ask a question in a topic area based on the color). They all replace them in a box and then another person chooses one piece of paper for each color and then you write the answers BEFORE they ask the questions.

There are many other effects, but I really like this one. The box looks very clean from all angles and its like a suggestion box.

It comes with a big book of instructions and routines with 21 pages from the ever fertile mind of Larry Becker. A great utility prop. Mikame Craft have a box that looks kind of similar and I was at a dealers store recently and looked at it. Although the Mikame Craft box is nice, it is nothing like this box and certainly cannot do the things you do with this one.
Click here for more information.