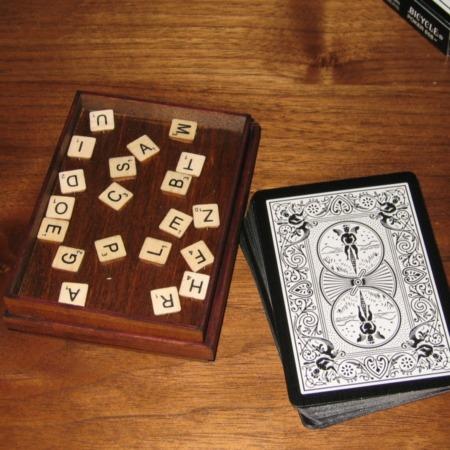 A Wonderfully Novel Card Revelation!

Here's a new one of a kind item from Yours Truly here at Martin's Magic! I think it is my best so far!

You have a card chosen. (BTW, I never actually use the Tiger Decks for real performances, but they photograph well, so I often use them when taking photographs – just in case you cared!).

Then you open a small box and show it has all of these minature scrabble tiles that can be freely moved around in the box. You close up the box and start to gently shake the box with initally fairly large motions. As you do this you can hear the letters move around. As you continue shaking, the motions get smaller and smaller until in the end you hear nothing move. Then you ask the specator to name their card, and ask them to lift the lid off of the box, and there neatly spelt out is the name of their card! Another Off The Shelf miracle comes to an end.

Reset is almost instant, but currently it is the same card that is revealed each time so it is not so good for walk around.

My wife said Wow! and smiled. That is good enough for me!
Click here for more information.