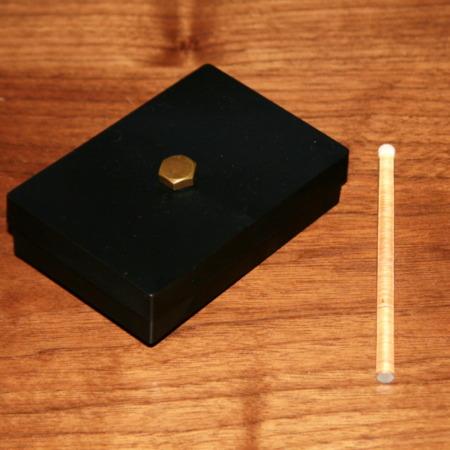 Very Convincing Effect!

What a wonderful effect this is: the spectator sees the box with the bolt running through it. You unscrew the bolt and push a clear plastic rod through the hole. All sides can be see and there is no doubt that the rod is going right through the middle.

Yet when you take the rod out and shake the box, you hear something inside the box … it is a full deck of cards, filling the box, and when you show them they clearly have no holes. It is a very convincing effect.

This is a method I have not seen before, and although it is not really suitable for walk around, since the set-up takes about a minute, it is brilliant for that one time close-up performance.

The deck is gimmicked, but even up close it looks like a normal deck. Nothing is added or taken away and it is very easy to perform!

A Real Fooler!
Click here for more information.