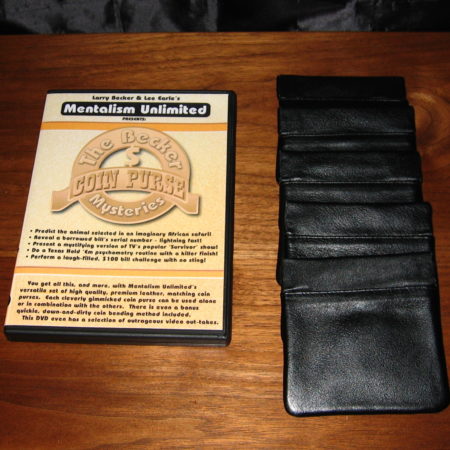 Wonderful Purses!

I've always liked $link(866,Larry's coin purse) and this latest version of his classic is certainly the best of all. As a set of five they are great value and they open up many more routine opportunities.

This set comes with five routines on the well produced DVD with some performances and history of the Coin Purse too. Due to the utility nature of these purses you will quickly be able to think of other routines for them if you so desire. But, you really won't need to since the routines are very strong and there is something for everyone.

The purses are very finely made in soft leather with a satin lining, and they can be used to switch almost anything that will fit in them. The mechanism is very easy and very clean, and done correctly there is no discernable difference between the two motions. The purses even make the same sound in both cases.

These really are a beautiful piece of work, and probably one of the best things to date to come out of the stable of Becker and Earle over at $link(http://www.mentalismunlimited.com target=_blank,MentalismUnlimited.com).

Highly recommended!
Click here for more information.