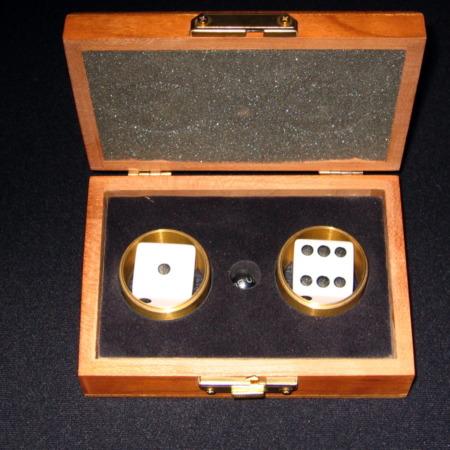 One of Nick's Best!

Ok so I've had some pretty bad experiences with the work of Nick de Palma. However, this one is pretty much perfect. It looks good, is made well, without any tell tale signs of glue or pencil, and is nice and clever!

In effect, you show a box with two dice, two brass rings and a small silver "atomic" ball in the middle. You take each of these out and clearly show the box is empty. Then you close the box and place the rings and dice on top of the box – with the ball in the middle. When the top die is placed over the ball the first time the die sticks up a bit because of the ball. But with a magical incantation, the die is replaced a second time and this time it moves right down flush with the rings. The atomic ball has vanished. You cleanly take away the rings and show the dice, and then when the box is opened the atomic ball is found to have returned to its rightful place.

A great trick with zero sleight of hand.

Highly Recommended!
Click here for more information.