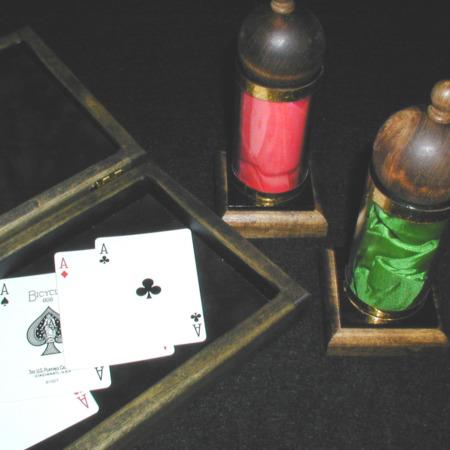 Keep it up Arlen Studios!

I recieved an early one of these and was dissappointed because there was more glue than I felt was necessary around the base. I told Keith to get his act together – and he did. He rebuilt the unit and now they are glueless and actually even better looking!

I struggled with this effect at first because it talks about using the old top of pocket dodge to effect the switch of the cards and silk. Keith suggested a card box, but I couldn't find one that worked well until I remembered the beautiful case that came with CW's Psychic Sword. It was perfect.

So now you have a sweet miracle, that looks good, is easy to do and is surprising. The basic effect is that after choosing the red or green silk you cover the other chamber with the chosen silk, place 4 aces into the box or your pocket. And in a blink they change places – very cleanly and quite amazingly.

Great job Keith – and thanks for fixing the glue issues – Nick de Palma will be pleased you're not trying to steal his trademark! Keep them coming please!
Click here for more information.