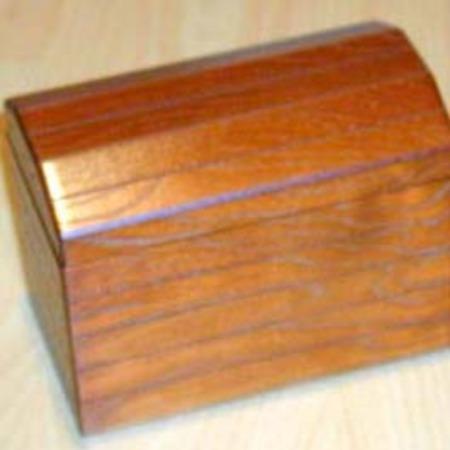 Treasure Box

I've had this treasure chest for a few years now. I can recall using it maybe two times. This is an item that looks good in the pictures, but is just not practical for a performing magician. A hobbyist may like it for his shelves though.

I have three main challenges with this item. A -it's very small and the load chamber is even smaller with restrictive sides B- It's very fragile C Can't be viewed from below and needs to be lifted carefully. D- it's a little pricey.

The size of this item is good for fitting into your magic case, but it's too small to produce much more than loose coins or necklaces from. I tried to get jumbo coins in there, but they just wont fit. the load chamber has restrictive sides. Not like a normal "tip over" The sides help to hold things in and the angle of the sides make the audience viewing angles better ( people sitting beside you won't be able to view the load when the box is tipped over ) but the price of a tiny load chamber was too high a cost for the better viewing angles if you know what I mean.

This is one prop you do not want banging around in your magic case. A special foam lined box is what you need. It's a very thin walled chest and fragile. In the past few years I've only used it carefully in a couple of shows, and It already has scratches on the finished sides.

This chest is built in such a way that you can not just pick it up. As soon as you pick it up off the table the load chamber drops out if you are not careful. Everytime you lift it off your table you need to tilt it forward a bit and slip your pinky finger under the chest to hold the load chamber in place. it looks awkward.

From the bottom looking up you can also see the load chamber and two large holes into the chest. Your audience must be seated on chairs. Kids on the floor will see everything.


I think this was poorly thought out and not representative of most of the Mikame products. Definitely something I wish I passed on. It would look good on a shelf somewhere, but it's not a performer.



Click here for more information.