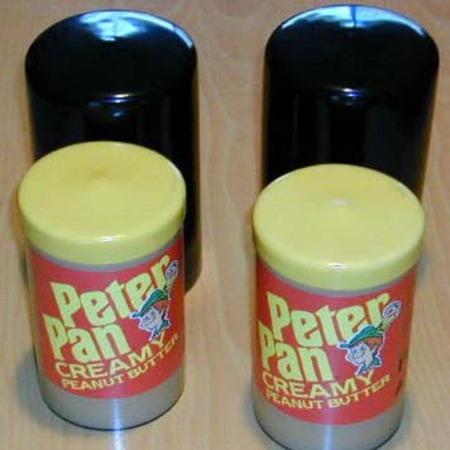 PB and J

This is a great effect, that I've been using in my magic shows for younger children for years! It's well built and can get great reactions depending on how you routine the effect.

A very simple effect with a peanut butter jar and a jelly jar that changes places underneath a couple of black covers. The covers are strong, flexible, and after using my set for years seem to show no sign of wear. the peanut butter jars look great and they look like glass jars thanks to the perspex, they are plastic though and very solid. You must supply your own jelly jars. I went with glass jars so I have to be careful, but if you are rough with your props you may want to find some nice plastic jars of jam.

Two challenges with this effect. First off, it's a piece that requires a good routine to get a good reaction. I've seen a standing ovation for this effect ( really, no kidding! ) and I've seen this done terribly More often then not it gets a good reaction, but please give it some thought, throw away the included routine and create a good original routine and you'll be surprised how well you can do. The second point, and it could almost be seen as funny. a few times it's been mentioned to me and once a lady came running up to me in the middle of my show concerned because a child in the audience had peanut allergies. We know the peanut butter jars are props, but our audiences don't and it could cause problems if the children are close up. Before every show like that I always mention to the staff that the pb jars are fake.
Click here for more information.